It's never too cold for the CampKings Crew to #GTFO so this time, our overnight adventure takes us to Burralow Creek Camp Ground deep in the Blue Mountains National Park. Access to the camping ground is more suited to vehicles that can take moderate 4WD conditions. Burralow Creek is a beautiful camping ground set in a grassy open area among scribbly gum trees – ideal for families or small groups and perfect for bushwalking with trails that will take you right into Bulcamatta Falls.
The #GTFO Experience
Getting to the grounds was a fairly bumpy ride! Unsealed but mostly graded, the way in is scenic and great for 1st time 4WD action. After we had set up the FAMILY KIT EasyTarp, 12-person tent and utilities, it was great to settle in by the fire and take in the Aussie bush surrounds. In the afternoon on this overnight #GTFO, we met and spoke with some of the other really great campers at this ground who said that the walk through the "Devils Playground" to the falls was well worth doing. The CampKings Crew experienced some very high, gusty winds throughout the night and our EasyTarp didn't budge! It was amazing just to lie in the cosy sleeping bag and hear the gums rustle and sway as the wind whipped down the mountain and through the grounds. The wind brought in a cool change and by that I mean it was a really crisp and icy morning at just 2 degrees, prompting a CampKings favourite breakfast over the campfire of "Toad in a hole" and bacon with fresh coffee.
Fed and watered, the CampKings Crew walked the track to the Bulcamatta Falls, which is fairly easy going and both the track to the falls, and the waterfall itself are a real picturesque experience not to be missed while you are here.
The CampKings Crew have rated this site according to the Tent Peg Rating Scale. Check it out before you visit and we'd also love you to check out our EasyTarp camping tarpaulin tarp shelter set-up solutions here: CampKings EasyTarp camping tarp shelter solutions.
Be a Tarp Master with EasyTarp easy tarpaulin set up kits. Tarp Kits... Like You've Never Seen!
THE #GTFO RATING CARD
You can click and drag this card to save it!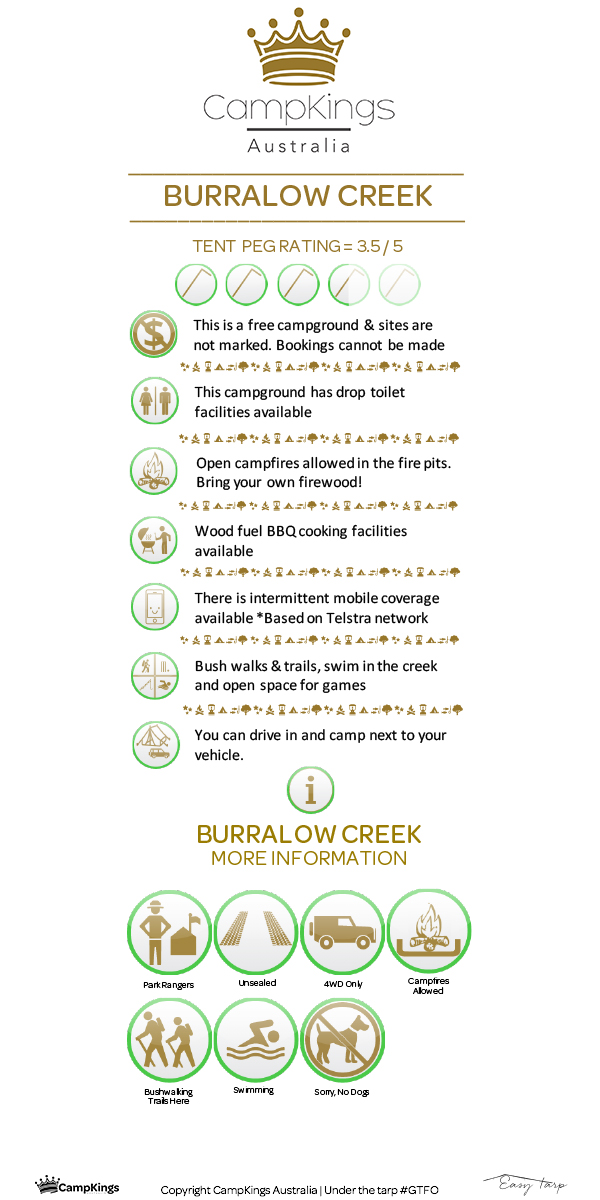 HOW DO I GET THERE?
After you leave Bells Line of Road turn onto Warks Hill Road, and then onto Burralow Road. Follow the fire trail off Burralow Rd from Kurrajong Heights, or via the Patterson Range Fire Trail from Bilpin and continue along until you reach to grounds. Both these access roads are 4WD only.
CLICK HERE for the Burralow Creek google map

WHAT CAN I SEE & DO THERE?
Unwind and take in the serenity
Relax by the river
Cycle the valley flats
Kick back by the open fire
Heaps of space for cricket and Bush Bocce
Explore the Convict walking trails
Hike to Bulcamatta Falls
Hit the 4WD trails
Check out the Glow-worm grottos

WHAT SHOULD I BRING?

You should bring your Tent and Tarp set up (sites are not marked). Bring fire-wood, drinking water and supplies as well as marshmallows, bocce and cricket set. Also, pack comfortable walking shoes.

WHAT DID WE RATE?
The campground is set at the base of the mountain and the flat grounds provided a variety of awesome short bush walks make it an interesting weekend. The campground is also a really great "introductory" 4WD track and means that you can complete the drive with little or no 4WD experience.

WHAT WAS NOT SO GREAT?
The camp ground and the access to it is not very well sign-posted. The creek is not large enough to swim in, though you could have a splash in the Summer.

WHAT YOU SHOULD KNOW

This is a free campground so no bookings or fees are required

NPWS Rangers conduct regular visits to this camping area

Sites are NOT powered

You can camp next to vehicle

Drop Toilets are available

Road access is by 4WD graded / gravel road

Suitable for tents & off-road camper trailers

There is intermittent mobile phone reception

Pets are not permitted

Water is not available at this campground

Remember to treat or boil all water taken from creeks in the park

You can swim in the River

Firewood is not supplied

Collecting firewood in the park is not permitted

Rubbish bins are not available, so please take rubbish with you when leaving

This is a remote campground, so please make sure you arrive well-prepared
The Blue Mountains National Park is always open but may have to close at times due to poor weather or fire danger

CAMPKINGS CAMPGROUND TRIVIA
The Burralow area has a fascinating history - "Burralow Swamp" was one of the very first lands granted, namely to retired British Army Lieutenant Bowen in 1828. The name "Bulcamatta" is derived from the local aboriginal word meaning mountain and water Falls. The Convict Walking Track will lead you to twin waterfalls and the camping area lies on a grassy flat in the deep valley of Burralow Creek. The entire area is surrounded by tall forests and small sandstone cliffs. If you explore, you will see the old clearings on deep alluvial soil and this is from what may have been the first attempt to grow rice in Australia, after George Bowen took up land there in 1848. The creek was used for irrigation until the venture failed, and traces of the canals can still be seen.
On the western side of Burralow Creek camping area there is a sign-posted track. (To find this track stand with the camp toilet at your back and walk across the camping area, go past the side fence and look for sign near stepping stones across creek). Cross the creek and follow the trail past convict ruins to a small waterfall, and here, Glow-worm grottos can be found in the rock face.


You can Click Here to learn more about our Tent Peg rating scale
Follow the CampKings Crew & and post your adventures on twitter, Facebook, google+ & instagram and we look forward to hearing all about your very own #GTFO adventures and discoveries.
If you are after advice on camping gear and EasyTarp tarpaulin set ups, talk to the experts at CampKings Australia.
Be a Tarp Master with a CampKings Australia EasyTarp.
Tarp Kits... Like you've never seen!
See you Round the Grounds...
The CampKings Crew