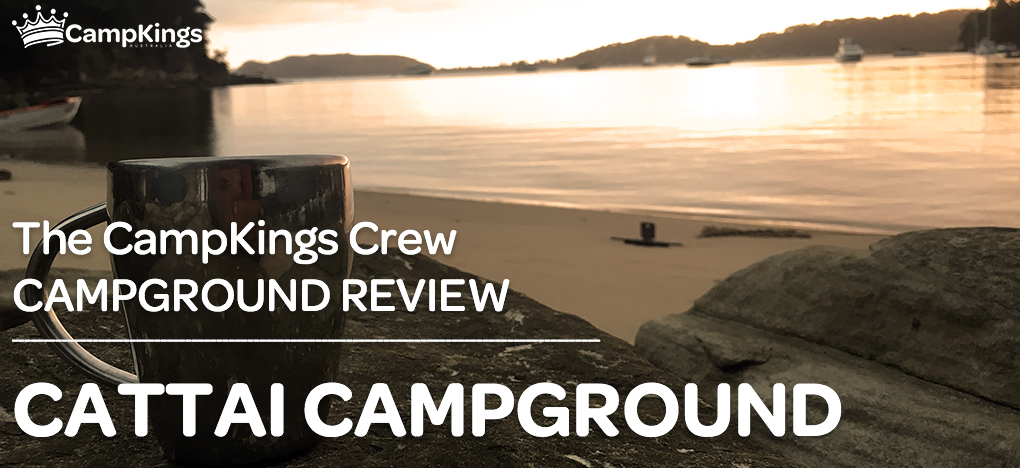 The CampKings Crew were looking for a little gem of a campground close to Sydney and around the North West, and we discovered Cattai Campground. It didn't take much convincing for the CampKings Crew to decide to embark on another #GTFO adventure and try it out. Located in North West Sydney, Cattai campground is located in the Cattai Farm section of Cattai National Park. This campground is a great place for a weekend getaway with family and friends, and it is a good place to stop with your camper-van or camper trailer if you are on a camp | drive tour.
The #GTFO Experience
The way into Cattai is suitable for all vehicles, including motorcycles, and it is accessible in all weather. Within 60 minutes the crew had set up with the MEGA KIT EasyTarp and it was time to enjoy a couple of glasses of red wine and a game of twilight Bocce. The campgrounds are a fair way up the Hawkesbury river and as a result, there is really no great fishing to be had here, but the river does make for a great, muddy playground for the kids and also, if you have a kayak or paddle board the river is perfect for these! As the sun set, the CampKings Crew got the campfire going, went for a hot shower and then we kicked back alongside the swamp wallabies and Eastern Grey Kangaroos that frequent the area daily to enjoy the nightly sky show beneath billions of stars. Dinner on this overnight #GTFO was a good old Aussie BBQ with steak, sausages and mashed potato.
The mornings are quite amazing with the first chime of whip-birds and bellbirds, the sun climbs over the shaded camping ground to welcome in another day.
The CampKings Crew have rated this site according to the Tent Peg Rating Scale. Check it out before you visit and we'd also love you to check out our EasyTarp camping tarpaulin tarp shelter set-up solutions here: CampKings EasyTarp camping tarp shelter solutions.
Be a Tarp Master with EasyTarp easy tarpaulin set up kits. Tarp Kits... Like You've Never Seen!
THE #GTFO RATING CARD
You can click and drag this card to save it!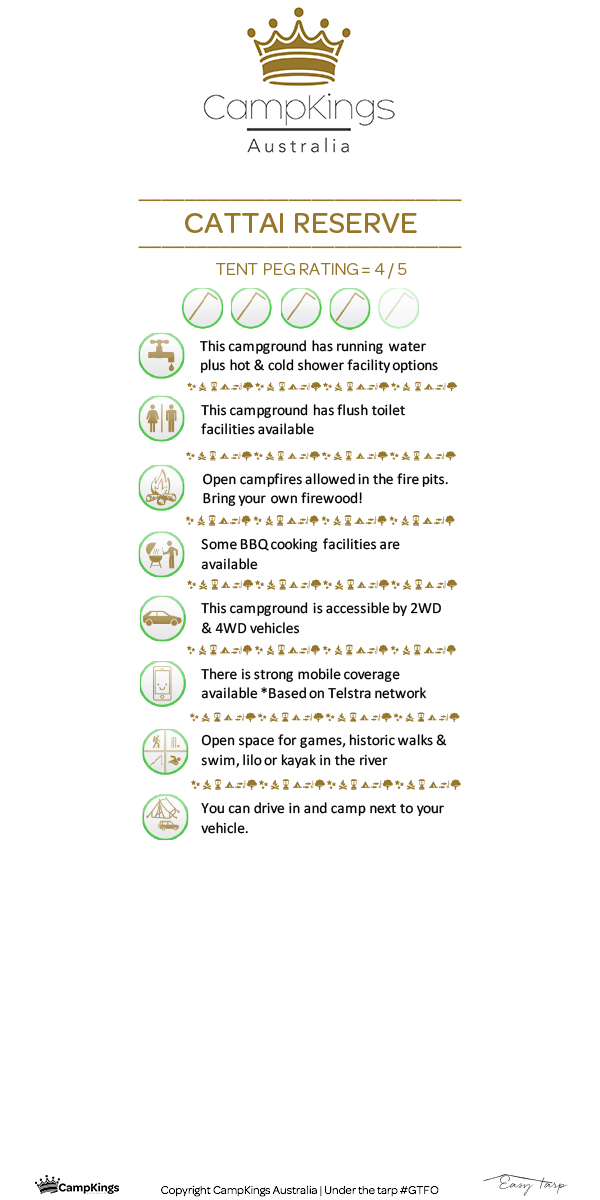 THE #GTFO INFO CARD
You can click and drag this card to save it!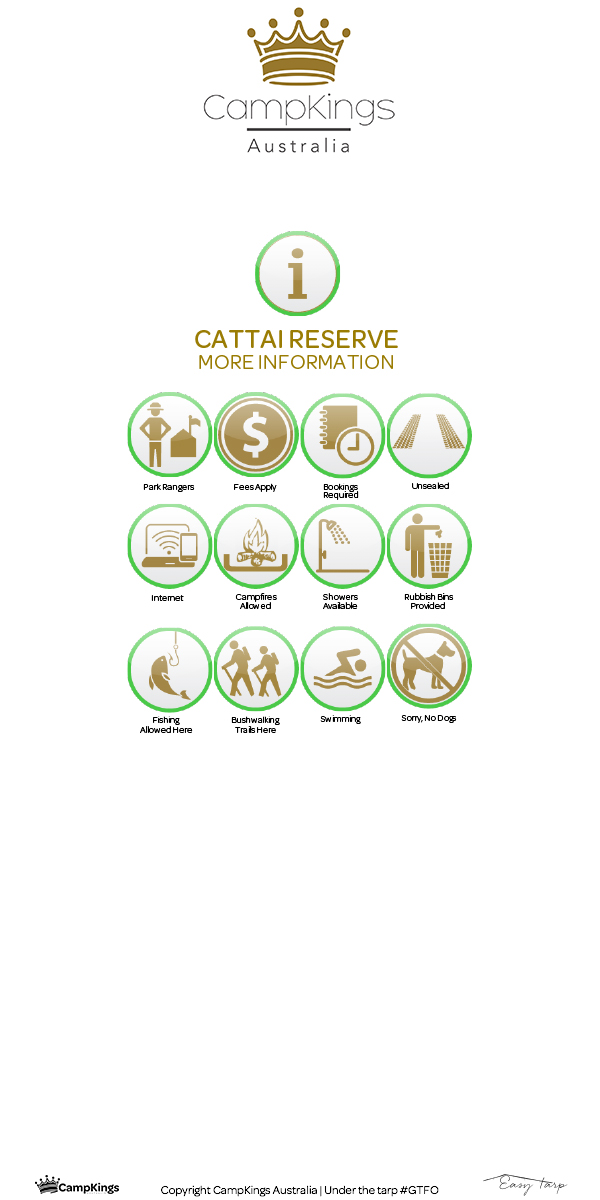 HOW DO I GET THERE?
Cattai National Park is a great place to visit all year round. To get there, take Cattai Road or Wisemans Ferry Road to the park. Look for the park turnoff sign and follow this unsealed dirt road to the end. This road is suited to 2WD | AWD and 4WD vehicles and camper-vans and trailers are fine.
CLICK HERE for the Cattai Campground google map

WHAT CAN I SEE & DO THERE?
Bushwalking
Fishing
Canoeing and kayaking
Bike Riding
Visit Cattai Homestead
Bird watching

WHAT SHOULD I BRING?
You should bring your Tent and Tarp set up (sites are not marked) - camper-trailer and camper-vans are also welcome. Bring fire-wood, drinking water, marshmallows, bocce and cricket set and paddle boards

WHAT DID WE RATE?
Massive open spaces and great, flat camp sites. Also the amenities are well maintained and being right next to the Hawkesbury River is awesome

WHAT WAS NOT SO GREAT?
Little "grass bugs" that come out at night so stay in the light and you'll be fine!

WHAT YOU SHOULD KNOW
NPWS Rangers conduct regular visits to this camping area

Free electric barbecues

Sites are NOT powered

You can camp next to vehicle

Flush Toilets / Hot showers are available

Road access is by sealed and gravel road with a gate at the entry

Park entry fees apply and are NOT included in camping fees

Suitable for tents, camper trailers or camper-vans

There is mobile reception

Pets are not permitted

Water is available at this campground

Remember to treat or boil all water taken from creeks in the park

You can swim in the River

Firewood is not supplied

Collecting firewood in the park is not permitted

Picnic shelter is available for hire

Cattai is open 7.30am to 6:30pm (EDST) & 7:30am – 5:00pm at other times

Check in after 9:00am. Check out before 12:00pm

Please drop your rubbish in the bins provided with you when you leave
Cattai National Park, including the campground is locked overnight. An emergency after-hours gate code will be issued with your reservation confirmation. Please see visitor info for more information

CAMPKINGS CAMPGROUND TRIVIA
Cattai National Park is the traditional Country of the Darug people. The park's landscape, including the river provided a rich source of food, medicine, shelter and tools for the Aboriginal people who travelled through the area. The park protects a number of ancient Aboriginal sites that are evidence of the Darug people's ancient connection to the land, you may find axe grinding grooves on rocks as well as rock engravings and art.
Cattai National Park lies within the Cumberland Plain, an important land system near Sydney that has been impacted by agricultural processes and urban development. Mitchell Park is significant because it contains much of its original vegetation, including paper bark, red gum, stringy bark, grey gum and cabbage gums. The area is also quite significant as it includes a parcel of land granted to First Fleet assistant surgeon Thomas Arndell and is still intact. Cattai Farm and the surrounding area was home to seven generations of Arndell's, with the land remaining with descendants of Thomas Arndell for about 180 years.
Today, several historic sites invite observation and journeying into the past; Arndell's 1821 homestead, convict-built walls and roads, grain silos and ruins of a windmill believed to be Australia's oldest industrial building.


You can Click Here to learn more about our Tent Peg rating scale
Follow the CampKings Crew & and post your adventures on twitter, Facebook, google+ & instagram and we look forward to hearing all about your very own #GTFO adventures and discoveries.
If you are after advice on camping gear and EasyTarp tarpaulin set ups, talk to the experts at CampKings Australia.
Be a Tarp Master with a CampKings Australia EasyTarp.
Tarp Kits... Like you've never seen!
See you Round the Grounds...
The CampKings Crew