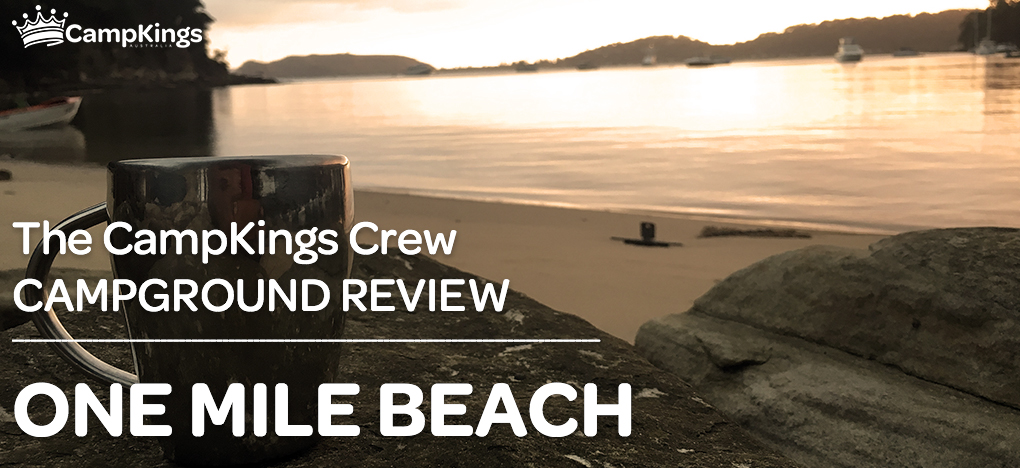 This time the CampKings Crew are off on an awesome 3 night #GTFO adventure and our destination is One Mile Beach Holiday Park. Its not free, or even low cost but it offers a huge array of activities and great, clean facilities as well as... it is the only holiday park located right on the beach in beautiful Port Stephens. It is also the closest thing you can get to camping in the protected Tomaree National Park. Travelling to this campground is suitable for all vehicles (minus a couple of sharp bends as you head into town) and takes around 3 hours drive heading North from Sydney (though on long weekends and school holiday peak periods, you may want to allow a little extra time as it is a very popular area). This campground is well worth it and is jam packed with activities and plenty to do for families wanting a relaxing break away.
The #GTFO Experience
We couldn't wait to check out the surrounds and we got to setting up straight away. There was plenty of space for our 12-person tent, the MEGA KIT EasyTarp and the trailer and we booked an ensuite site to make it easier with the kids! Our site was located midway between the beach and the lagoon which made the decision to go for a fish very easy and as soon as we had pitched our tent and the MEGA KIT EasyTarp, we started exploring the holiday park and pretty quickly, we met some of the other friendly campers and had an invitation to settle in for "happy hour".
You can hear the ocean from everywhere in the park and you have to admit, there is nothing quite like crawling into your tent after some serous star-gazing and drifting off to sleep with the sound of the ocean and waves crashing as your own personal soundtrack. Waking to the pleasant sounds of Kookaburras and the smell of fresh brewed coffee at the camping ground is just perfect. For the next 3 days, the kids were entertained every day between the free park facilities including the giant jumping pillow, putt putt golf, huge swimming pool, and the camping games that we play on every trip - Bush Cricket, Bush Bocce, Hide and Seek as well as exploring the beach and riding the bike or just playing in the on-site playground. Even better is the discoveries made around the lagoon at low tide.
The CampKings Crew have rated this site according to the Tent Peg Rating Scale. Check it out before you visit and we'd also love you to check out our EasyTarp camping tarpaulin tarp shelter set-up solutions here: CampKings EasyTarp camping tarp shelter solutions.
Be a Tarp Master with EasyTarp easy tarpaulin set up kits. Tarp Kits... Like You've Never Seen!
THE #GTFO RATING CARD
You can click and drag this card to save it!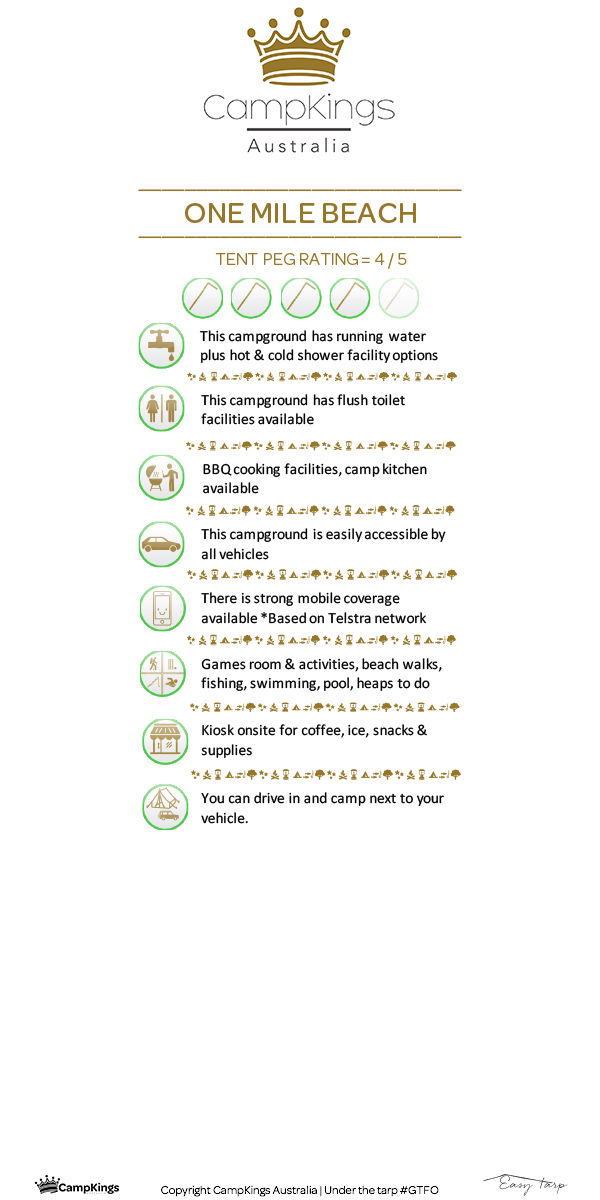 THE #GTFO INFO CARD
You can click and drag this card to save it!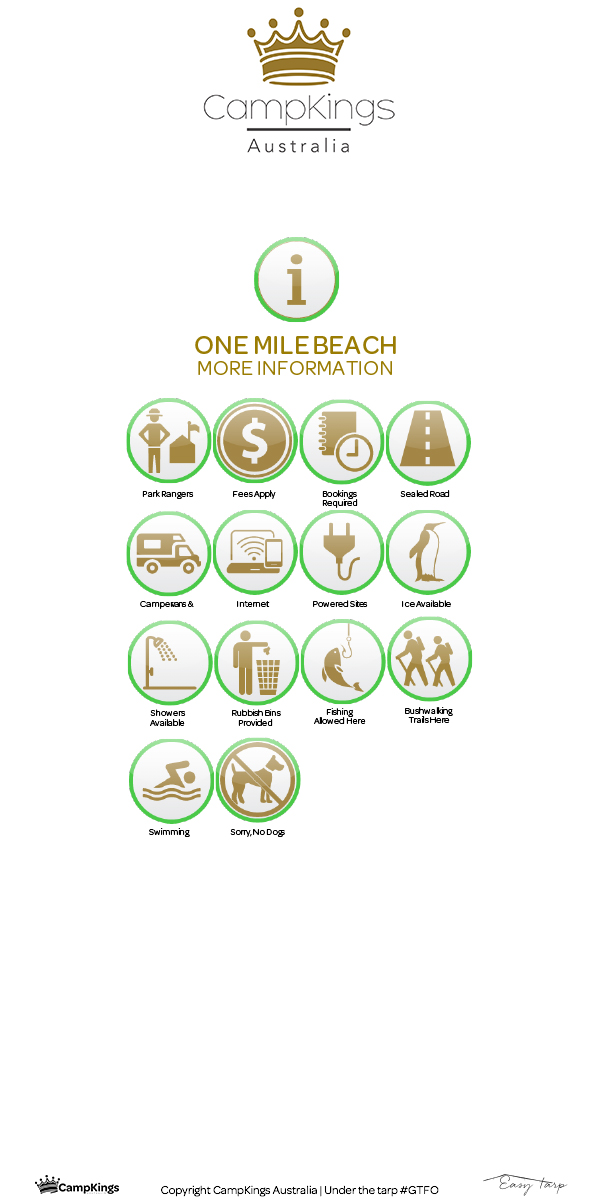 HOW DO I GET THERE?
If you're driving from Sydney or Newcastle, take the Pacific Highway (A43), and continue on through Hexham and across the Hunter River. Follow this until you get to the Tomago Road turnoff and turn right. Just keep driving straight and as you follow Tomago Road it becomes Cabbage Tree Road... Keep driving straight until you hit the Williamtown round-about (with MacDonalds on the corner) and turn left onto Nelson Bay Road at Woy Woy. Now, head towards Nelson Bay and just before Anna Bay you will see Gan Gan Road on the right... Turn right here and follow Gan Gan Road right up to One Mile Beach Holiday Park.
CLICK HERE for the One Mile Beach google map

WHAT CAN I SEE & DO THERE?
Beach fishing
Swimming and surfing
Whale | Dolphin watching
Diving and Snorkelling
Sand Dune climbing

WHAT SHOULD I BRING?

You should bring your Tent and Tarp set up, Camper-trailer or Van (sites are marked). Also bring a cricket set, canoes, stand up paddle boards, fishing gear, bikes or arrange to hire from the holiday park.

WHAT DID WE RATE?
This holiday park is huge, neat and tidy with friendly park attendants and it is all set amongst 15 acres of beautiful subtropical gardens on absolute beachfront with no less than 26 pristine beaches right on your doorstep!

WHAT WAS NOT SO GREAT?
It can get very busy and at peak times you can tend to feel the squeeze between campsites... but that's just what happens during peak in a holiday park right?!

WHAT YOU SHOULD KNOW
There are Park Managers on-site

Electric barbecues are available

Powered and unpowered sites are available

You can camp next to vehicle

This park offers accessible amenities

Laundry and dryers are available

Access is sealed road

Suitable for tents, camper trailers or caravans

There is mobile reception

Pets may be permitted in Winter

Water is available at this campground

Tennis courts available for hire

Kids Club is available during school holidays

There is a swimming pool on-site

Putt Putt Golf is available

Beaches are close to the park

Children's play area is on-site

Please book ahead as this ground gets busy

CAMPKINGS CAMPGROUND TRIVIA
Tomaree National Park is the traditional land of Worimi People and provided a range of resources, including food, medicines and shelter. The ancient landscape of the park is part of the cultural knowledge and 'Dreaming' stories of the Worimi People and remains an important Aboriginal place today. A walk along the beaches of Tomaree National Park are a walk along ancient travel routes used by Worimi to travel north and south through their Country.
The stretch of beach known as One Mile is located in the residential area of Forster and is extremely popular with surfers and families. Patrolled during the holidays and on weekends the beach is bordered by a large park with barbecue, picnic facilities and playground equipment. The northern end is the access to Bennett's Head lookout where 360 degree views of the area can be enjoyed. It also boasts Giant Sandhill, popular for sand sliding and boarding.
Anna Bay is located in picturesque Port Stephens, approximately 45 minutes drive north of Newcastle. Named after a boat that was alleged to have been ship wrecked there, Anna Bay today boasts bays and beaches with One Mile Beach a main attraction for surfers.
You can Click Here to learn more about our Tent Peg rating scale


You can Click Here to learn more about our Tent Peg rating scale
Follow the CampKings Crew & and post your adventures on twitter, Facebook, google+ & instagram and we look forward to hearing all about your very own #GTFO adventures and discoveries.
If you are after advice on camping gear and EasyTarp tarpaulin set ups, talk to the experts at CampKings Australia.
Be a Tarp Master with a CampKings Australia EasyTarp.
Tarp Kits... Like you've never seen!
See you Round the Grounds...
The CampKings Crew