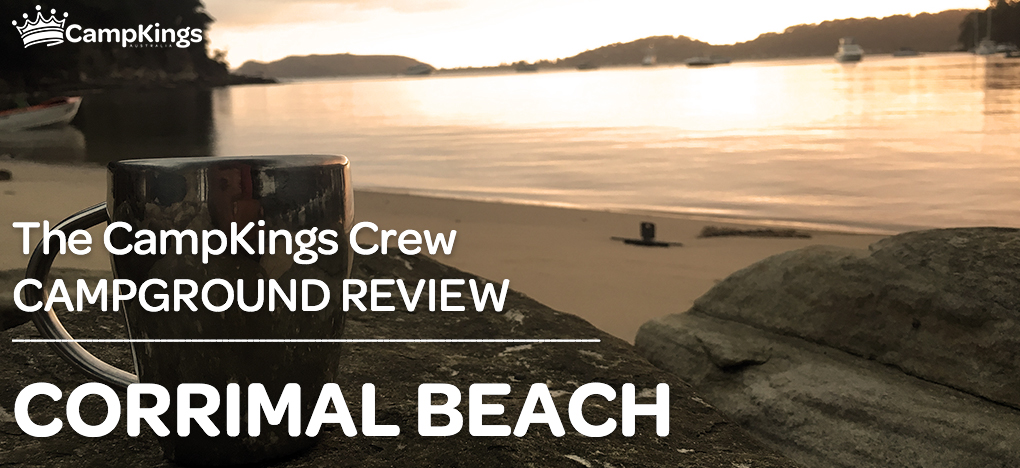 The CampKings Crew took a drive about 80 minutes South from Sydney on this #GTFO and we checked into Corrimal Beach Tourist Park. Located right on the coast of some of the most scenic and unspoiled beaches, Corrimal Beach campground is a great place for an overnight stop – or a week-long getaway and it offers a great range of accommodation options from basic tent sites to caravan and deluxe cabins.
The #GTFO Experience
This spot is located just a few minutes' drive from the Wollongong CBD so access to the campground is easy. Spread out over 10 hectares all sites are only minutes walk from the beach and if you can't live without your mod-cons, this park offers the lot including a choice of unpowered, powered and ensuite sites, clean amenities with hot showers, laundry and camp kitchen and for the kids there is a playground and even free WiFi access.
Within 20 minutes the crew had set up camp with the EZI KIT EasyTarp and started exploring the local surrounds. It was less than 3 minutes walk to the 1.4km long, private beach which is flanked by sand dunes at one end and a natural rock pool at the other. This picturesque Aussie beach also has a lagoon located at the Southern end which makes for some great splashing about and even some good fishing. The campgrounds are not marked and are a great size, flat and set out to accommodate all manner of set-ups from tents to camper trailers and vans. It came across a little drizzly in the evening so the Crew settled in beneath the EZI KIT for a game of poker and cooked up an early dinner. Overnight, the rain cleared and in the morning we explored the bike tracks, threw a line into the surf and at low tide, we embarked on an adventure across the vast expanse of rocks that are exposed to reveal a hidden world of sea creatures. This park well located to shops and supplies & even has a Café, Kiosk and Takeaway on site. All up, this is an awesome destination for a great family break away.
The CampKings Crew have rated this site according to the Tent Peg Rating Scale. Check it out before you visit and we'd also love you to check out our EasyTarp camping tarpaulin tarp shelter set-up solutions here: CampKings EasyTarp camping tarp shelter solutions.
Be a Tarp Master with EasyTarp easy tarpaulin set up kits. Tarp Kits... Like You've Never Seen!
THE #GTFO RATING CARD
You can click and drag this card to save it!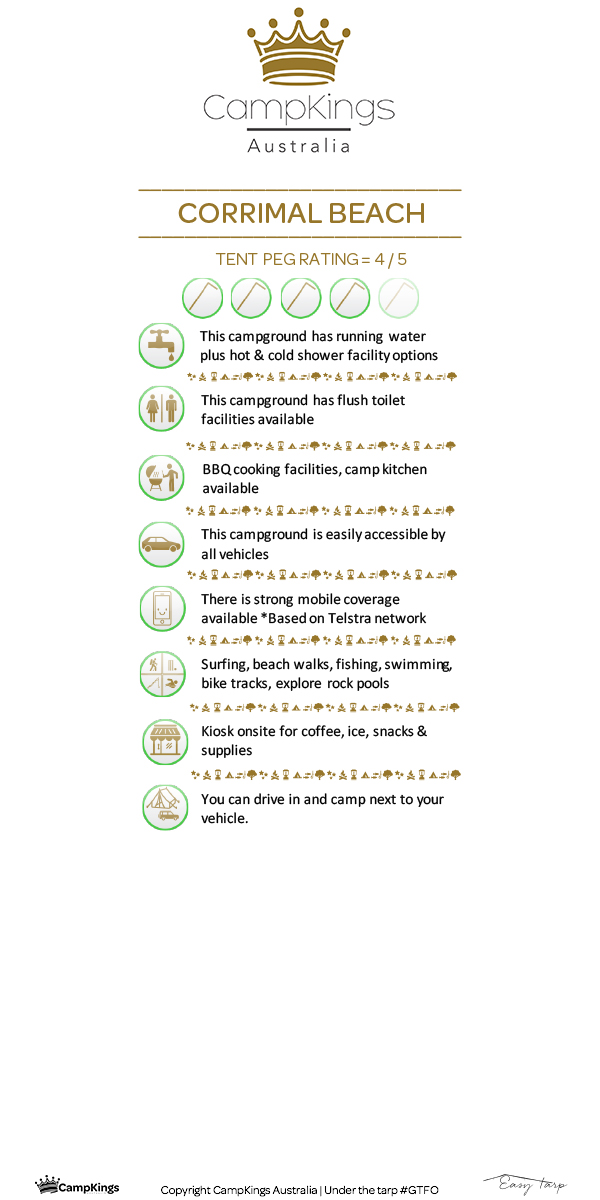 THE #GTFO INFO CARD
You can click and drag this card to save it!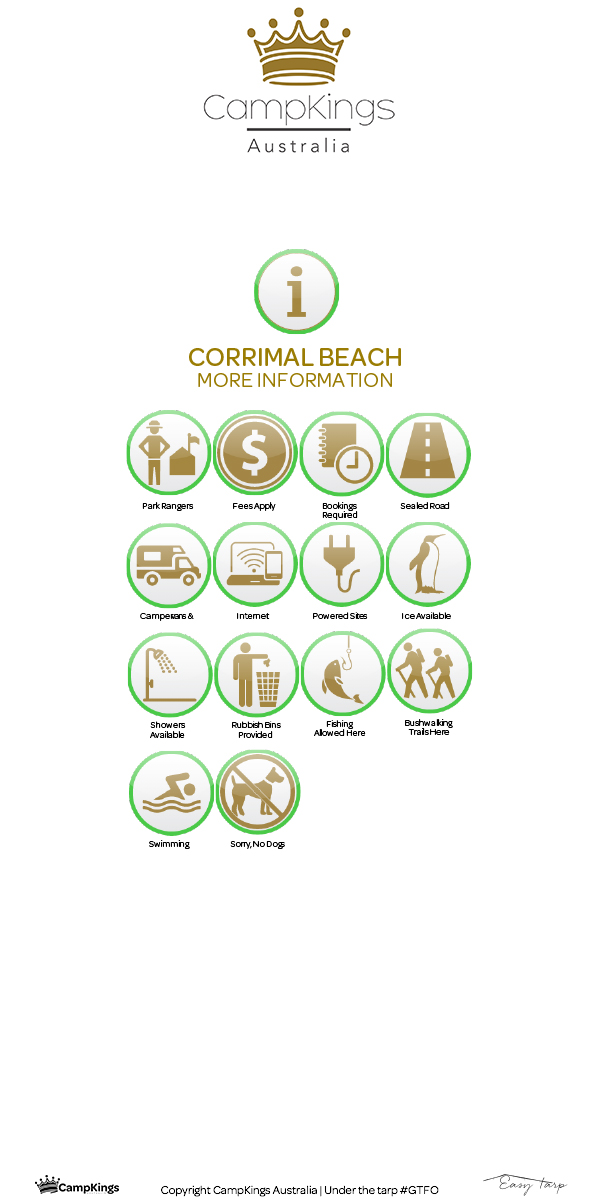 HOW DO I GET THERE?
Being right on the edge of the coastline and so close to the city makes this a really convenient location. To get there from Sydney, you can take the M1 all the way to the Bulli Pass exit and head towards towards Pioneer Rd and Lake Parade where the Campgrounds are located. If you prefer an easier drive, keep on the M1 until the Mt Ousley exit and then take the University Drive exit back towards Bulli \ Sydney until you reach Corrimal. This road is suited to 2WD | AWD and 4WD vehicles and camper-vans and trailers are fine.
CLICK HERE For the Corrimal Beach google map

WHAT CAN I SEE & DO THERE?
Surfing \ Swimming
Fishing & Rock Pools
Beach Recreation
Bike riding
Children's Playground
Visit Wollongong City Foreshore

WHAT SHOULD I BRING?

You should bring your Tent and Tarp set up (sites are not marked) - camper-trailer and camper-vans are also welcome. Also bring a cricket set, canoes, stand up paddle boards, surf skis, fishing gear, bikes or arrange to hire from nearby areas prior to your stay.

WHAT DID WE RATE?
Good sized, flat camp sites and the amenities are well maintained. There is plenty to do (if you want to) either inside or outside the park and it is very easy to navigate your way around.

WHAT WAS NOT SO GREAT?
There is no boat ramp that we could find so if boating is what you're after, this is not the place unless you are going to charter one.

WHAT YOU SHOULD KNOW
Park Managers are on site in this camping area

Free sheltered barbecues

Sites are powered or unpowered

You can camp next to vehicle

This park offers accessible amenities

Coin operated Laundry and dryers are available

Flush Toilets / Hot showers are available

Road access is by sealed road with a gate at the entry

Suitable for tents, camper trailers, vans or camper-vans

There is mobile reception

Pets are not permitted

Water is available at this campground

Beaches are close to the park

On site Café, Kiosk and take-away

Children's play area is on-site

Local shops and RSL are nearby

You can swim at the beaches (Only patrolled during Summer school holidays)

Fires are not permitted

Check in after 2:00pm. Check out before 10:00am

Please drop your rubbish in the bins provided with you when you leave

Some T&C apply. Please see visitor info for more information.

CAMPKINGS CAMPGROUND TRIVIA
It is said that "Corrimal" received its name from a point on the Mountain range nearby, known as Mount Corrimal after the aboriginal warrior "Kurimul" (kori-mul). This point was known locally as Brooker's Nose after James Brooker, an early settler in the area. "Kurumul" was a 'dreamtime' warrior who took another man's wife. When pursued by the husband "Kurumul raced up the mountain and climbed a tall tree. The husband gathered wood and set fire to the tree, and Kurimul was carried up in flames into the sky".
Early industry included Corrimal Colliery (also known as the Corrimal-Balgownie Colliery) in 1883 and until 1887 coal was transported to the government railway by bullock team. A colliery existed at Corrimal until 1985. With the growth of the coal industry in the Wollongong region, villages appeared close to the sites of the mines and roads were developed to link the district and also provide an overland link to Sydney, previously travelled to by sea. Corrimal Railway Station was in operation by November, 1887 when a rail service from Clifton to Kiama began and Bellambi Station opened soon after, in 1888. The link to Sydney however, was not completed until 1888.
The Streets Ice cream Company came from humble beginnings when Edwin (Ted) Street began operating a fruit run at Corrimal in the early 1930's. He then purchased a mixed business and milk bar and started making ice cream in a small churn, just after the Depression, to supply his milk bar. It tasted so good that other shops wanted to buy it and before long Mr Street was supplying ice cream to dozens of shops. He built an ice works and factory near the corner of the Princes Highway and Tarrawanna Road and the first deliveries to Sydney were made by van. Many locals still remember the huge neon sign, featuring polar bear licking an ice cream, that was outside the Corrimal works and, it was also the first moving neon sign in Wollongong.

You can Click Here to learn more about our Tent Peg rating scale
Follow the CampKings Crew & and post your adventures on twitter, Facebook, google+ & instagram and we look forward to hearing all about your very own #GTFO adventures and discoveries.
If you are after advice on camping gear and EasyTarp tarpaulin set ups, talk to the experts at CampKings Australia.
Be a Tarp Master with a CampKings Australia EasyTarp.
Tarp Kits... Like you've never seen!
See you Round the Grounds...
The CampKings Crew