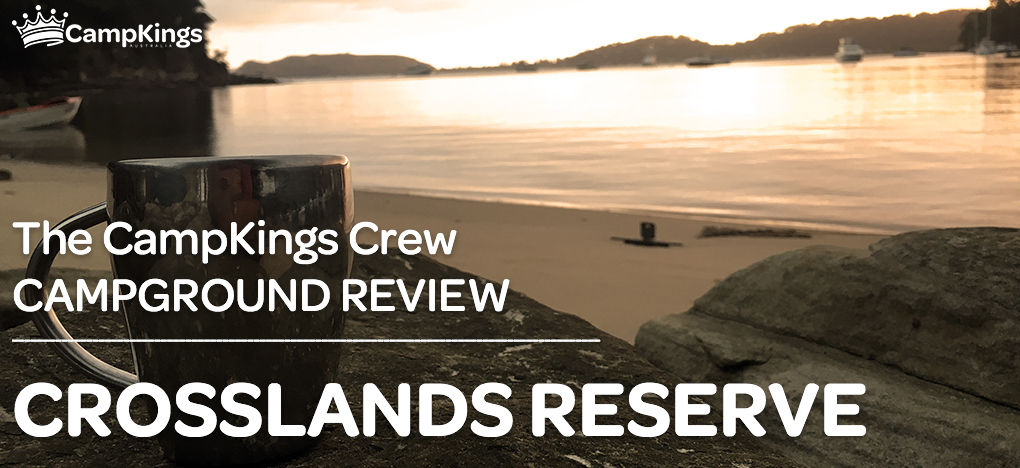 The CampKings Crew are camping pretty close to suburbia on this #GTFO adventure to Crosslands Reserve campground. It is just down the road from Hornsby Heights, NSW and the grounds are situated in the Berowra Valley National Park, a beautiful natural setting that is perfect for picnics and camping. If you are looking for an entry level introduction to camping, the Crosslands Reserve Campground is an excellent first choice for an overnighter or a weekend stay for anyone.
The #GTFO Experience
With sealed road the whole way, this campground is accessible for all vehicles in any weather. As it is set down in the valley, in heavy rain the grounds may be closed and if you are already camped there, a Ranger may brief you on evacuation. On arrival, the CampKings Crew had to make the 150m trek from the carpark to the campsite in the rain, and if you have a little bit of gear – bring along a trolley.
After the MEGA KIT EasyTarp was set up, the tent, camp kitchen and chill-out area was able to be set up as dry as a bone! There is nothing in the world like hanging out under the protection of an awesome tarp, listening to the sound of the rain hammering down on the tarp and getting in a game of "friendly" poker. After the rain eased, dinner on this overnight #GTFO was steak and snags on the campfire, coupled with some fire roasted spuds.
Early the next morning there was time for some fishing and Camper Dave pulled in a massive Australia Salmon?!! The rain began again and NPWS Ranger Pete gave us fair warning that sooner, rather than later – we should pack up and get going… just to be safe!
The CampKings Crew have rated this site according to the Tent Peg Rating Scale. Check it out before you visit and we'd also love you to check out our EasyTarp camping tarpaulin tarp shelter set-up solutions here: CampKings EasyTarp camping tarp shelter solutions.
Be a Tarp Master with EasyTarp easy tarpaulin set up kits. Tarp Kits... Like You've Never Seen!
THE #GTFO RATING CARD
You can click and drag this card to save it!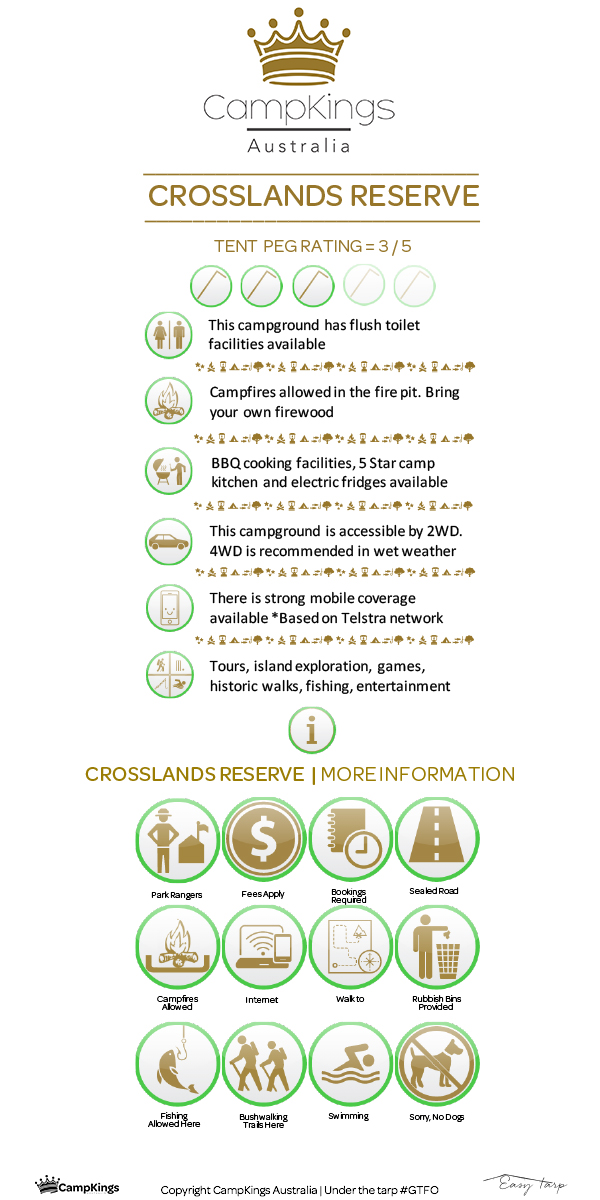 HOW DO I GET THERE?
Crosslands Reserve Camp ground is about 70 minutes drive from Sydney. Location is at the end of Somerville Road, Hornsby Heights and road access is by gravel road with a gate at the entry. Gate opens at 8:00am and closes at 7:30pm during day light savings, 5:00pm the rest of the year. The reserve can also be accessed by foot along the Benowie Walking Track, which is part of the Great North walk.
CLICK HERE For Crosslands Reserve Google Map

WHAT CAN I SEE & DO THERE?
Some fishing may be available
There are big open grounds for cricket, soccer etc
Large communal fire pit
Swimming in the creek
Children's playground
Bicycle track for cycling
Explore and discover along part of the Benowie Walking Track

WHAT SHOULD I BRING?
You should bring your Tent and Tarp set up (sites are not marked). Also bring fire-wood, drinking water, marshmallows, bocce and cricket set.

WHAT DID WE RATE?
The close proximity to Sydney, Parramatta and the Hills area makes it a really great weekend getaway location.
We also rated NPWS Ranger Pete who checked in on us when the rain started coming down. Thanks Mate!

WHAT WAS NOT SO GREAT?
You cannot camp next to your vehicle. This is OK as there are heaps of spots to choose from, but if you want a spot near the fire-pit, it's about a 300m walk to get there from your car.

WHAT YOU SHOULD KNOW

NPWS Rangers conduct regular visits to this camping area

Free electric barbecues

Sites are NOT powered

You cannot camp next to vehicle

Flush Toilets are available

Road access is by gravel road with a gate at the entry

Parking is available

NOT suitable for camper trailers or caravans

There is limited to no mobile reception

Pets are not permitted

Water is not available at this campground

Treat or boil all water taken from creeks in the park

You can swim in the nearby creek

Firewood is not supplied

Collecting firewood in the park is not permitted

The area is prone to flooding so check the weather before you set out

Picnic shelter is available (seats12 adults) for hire

Gate opens at 8:00am and closes at 7:30pm during day light savings, 5:00pm the rest of the year

CAMPKINGS CAMPGROUND TRIVIA
This area was originally inhabited by a subgroup of the Dharug (the main Aboriginal group of the Hawkesbury region) who sheltered in caves and behind bark screens and they found an abundance of food including fish, local vegetation, shell fish and small animals.
The first European settlers in the area were Burton Crossland and Matthew Charlton, one on each side of Berowra Creek. In 1856 Charlton engaged Crossland as caretaker of his property on the eastern bank of Berowra Creek. Burton built his home on it and earned a living cutting timber, growing fruit, fishing and boat-building.
The campground lies along the great The Great North Walk, which is a 250 kilometre bush walking track linking Sydney City with the Hunter Valley and Newcastle. It is one of the most spectacular walks in NSW, passing through a diverse range of scenery including Sydney Harbour, Berowra Valley, Hawkesbury River, Watagan Mountains, Lake Macquarie and the Newcastle coastline.
The Great North Walk was initially constructed as a celebration of Australia's Bicentenary in 1988. (see the History page for more information). The walk features camping grounds, water stations, lookouts, rainforest, native flora and fauna, sandstone ridges, coastal terrain and well-maintained boardwalks. See the Tracks and Walks page for an overview of the different access points.

You can Click Here to learn more about our Tent Peg rating scale
Follow the CampKings Crew & and post your adventures on twitter, Facebook, google+ & instagram and we look forward to hearing all about your very own #GTFO adventures and discoveries.
If you are after advice on camping gear and EasyTarp tarpaulin set ups, talk to the experts at CampKings Australia.
Be a Tarp Master with a CampKings Australia EasyTarp.
Tarp Kits... Like you've never seen!
See you Round the Grounds...
The CampKings Crew