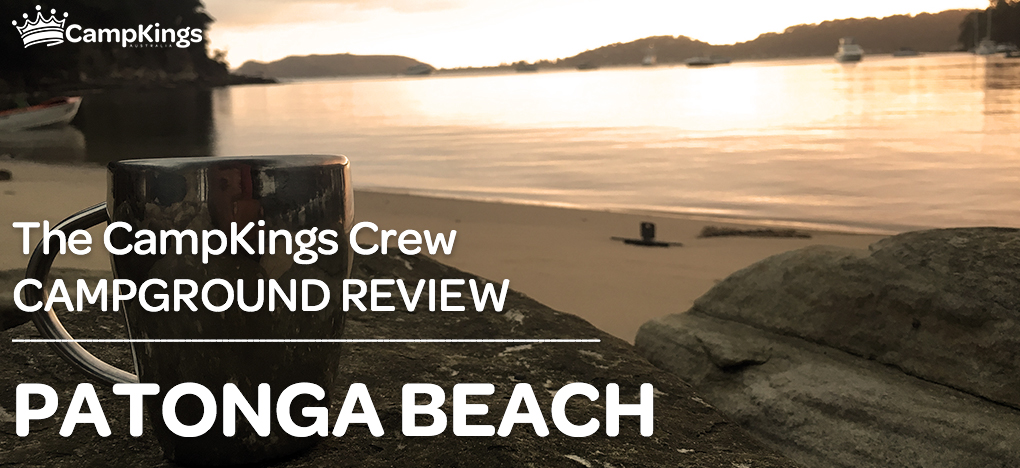 Having completed a few bush camping trips, The CampKings Crew decided to try a #GTFO sea-side adventure and headed to the beach for a couple of nights. Patonga Camping Ground is in Brisbane Waters National Park which is only a 1.5 hour drive north of Sydney, located between Patonga Creek and Patonga Beach. This is the place where the beautiful natural bush meets beachfront charm with tranquil and idyllic surroundings. Spectacular views and a secluded atmosphere make it the perfect spot to relax and get away from the hustle and bustle of the city. If you are looking for an easy access, family friendly camp ground...
Here it is!
The #GTFO Experience
Travelling to this campground is suitable for all vehicles (though on long weekends and school holiday peak periods, you may want to allow a little extra time as it is a very popular area). Mostly, it is a very easy drive with a couple of sharp bends as you descend into the small beachside town. At the camping ground there was plenty of space for our 12-person tent, the MEGA KIT EasyTarp and the trailer. Our site was located midway between the beach and the lagoon which made the decision to go for a fish very easy! At night, the sounds of the surf are almost therapeutic and there is nothing like drifting off to sleep with this natural soundtrack. There is plenty for the kids to do here including swimming, exploring the beach and riding the bike or just playing in the on-site playground and there is heaps to discover, especially around the lagoon at low tide.
Some of the food we enjoyed on this #GTFO included prawn skewers on the webber, home made burgers and lamb salad with tomato and fetta toasted bites. Next time we will bring the "Grumble Bum" too.
The CampKings Crew have rated this site according to the Tent Peg Rating Scale. Check it out before you visit and we'd also love you to check out our EasyTarp camping tarpaulin tarp shelter set-up solutions here: CampKings EasyTarp camping tarp shelter solutions.
Be a Tarp Master with EasyTarp easy tarpaulin set up kits. Tarp Kits... Like You've Never Seen!

THE #GTFO RATING CARD
You can click and drag this card to save it!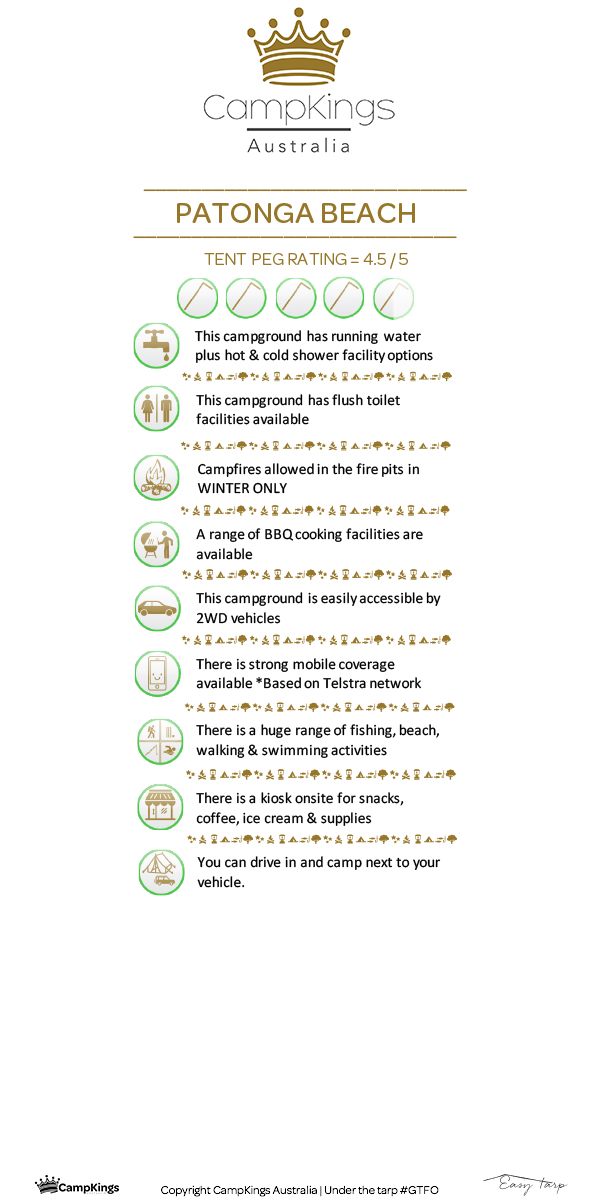 THE #GTFO INFO CARD
You can click and drag this card to save it!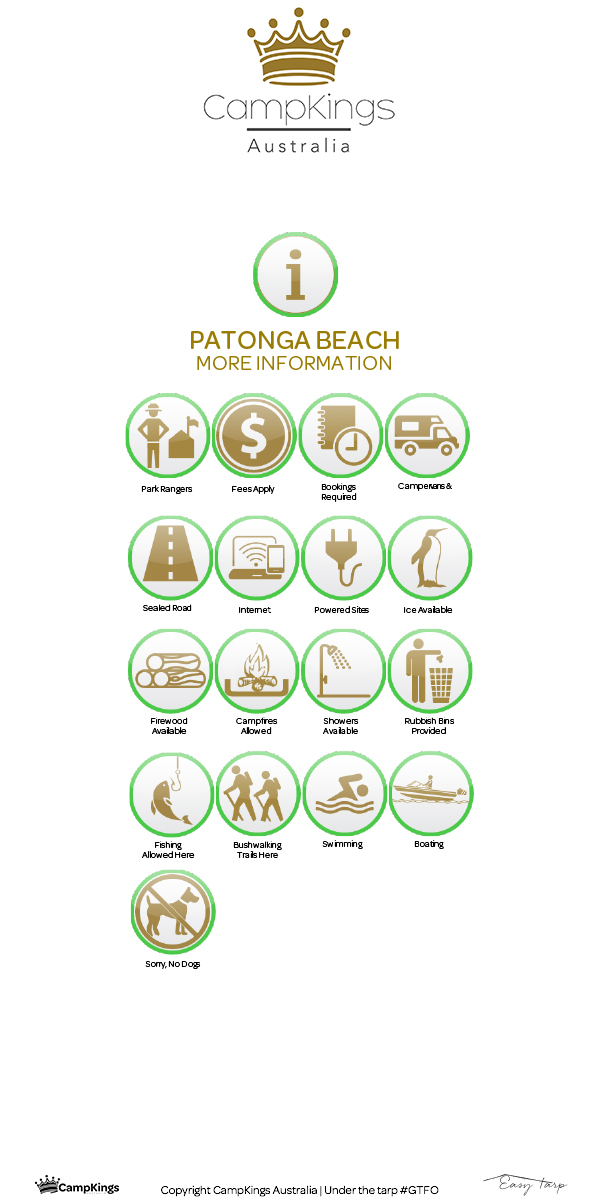 HOW DO I GET THERE?
If you're driving, take the Gosford exit from the M1, and follow the signs to Woy Woy. Once at Woy Woy, head towards Umina, where you will see signs for Pearl Beach and Patonga. Patonga is about a 10 minute drive from Umina.
If you want to get more than you bargained for, why not add adventure to your trip and arrive by ferry! Palm Beach & Hawkesbury River Ferries operates from Palm Beach daily for day trips to Patonga.
CLICK HERE for the Patonga camping ground google map

WHAT CAN I SEE & DO THERE?
Boating (On-site ramp is available)
Beach & Estuary fishing
Swimming and other water activities
Children's playground
Bushwalking
Bird life is abundant & the National Park provides heaps of wildlife
Catch a ferry for a day trip to nearby Palm Beach and Bobbin Head

WHAT SHOULD I BRING?
You should bring your Tent and Tarp set up, Camper-trailer or Van (sites are marked). Also bring a cricket set, canoes, stand up paddle boards, surf skis, fishing gear, bikes or arrange to hire from nearby areas prior to your stay.

WHAT DID WE RATE?
This community, town centre and campground is friendly, welcoming and awesome! There are stacks of things to do and it is totally family friendly.

WHAT WAS NOT SO GREAT?
At low tide the boat ramp into the creek empties right out... Don't get stranded! Also the beach is a fair walk from over some awesome sand dunes, so be prepared.

WHAT YOU SHOULD KNOW
There are Park Managers on-site

Electric barbecues are available

Powered and unpowered sites are available

You can camp next to vehicle

This park offers accessible amenities

Laundry and dryers are available

Access is sealed road

Ferry service runs to / from Palm Beach

Suitable for tents, camper trailers or caravans

There is limited mobile reception

Pets are not permitted

Water is available at this campground

Tennis courts available for hire

There is a Boat ramp on-site

Beach and creek are close to the park

Children's play area is on-site

Local tavern and fish and chip shop nearby

Campfires permitted in winter months, some rules apply

Please book ahead as this ground gets busy

CAMPKINGS CAMPGROUND TRIVIA
The area around Patonga was part of the home of the native Guringai people. Patonga provided rich sources of fresh water and food, and the name Patonga is the Aboriginal name for oysters.
The first land auction within Patonga was recorded in 1837. By the beginning of the 20th century, there were some permanent residents at Patonga - some of their descendents still live in the village. At this time there was no road access. Most people arrived by ferry, rowed from Brooklyn or walked the track from Umina via Pearl Beach.
Patonga grew rapidly during the Great Depression of the 1930s. Fish were plentiful and it was possible to live quite cheaply. It also became popular as a weekend get-a-way from Sydney and local dances and parties provided the entertainment of a holiday resort.
The road through to Patonga was built at the end of the 1930s and made the town more accessible. But it has still retained part of its remote feeling and village atmosphere. People still make their living from fishing, and visitors come to relax and enjoy the amazing scenery.

You can Click Here to learn more about our Tent Peg rating scale
Follow the CampKings Crew & and post your adventures on twitter, Facebook, google+ & instagram and we look forward to hearing all about your very own #GTFO adventures and discoveries.
If you are after advice on camping gear and EasyTarp tarpaulin set ups, talk to the experts at CampKings Australia.
Be a Tarp Master with a CampKings Australia EasyTarp.
Tarp Kits... Like you've never seen!
See you Round the Grounds...
The CampKings Crew