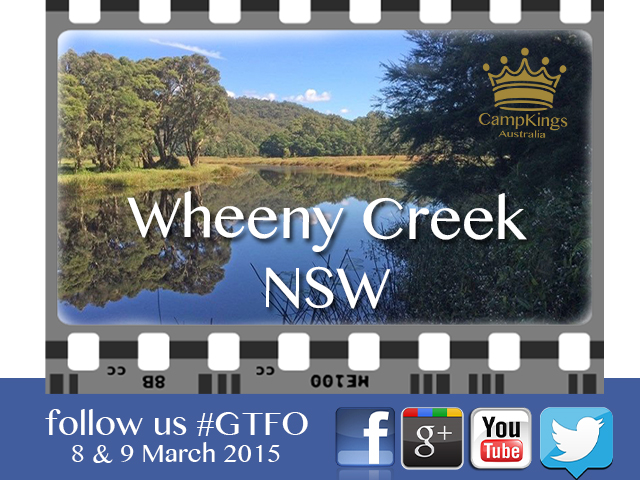 Welcome to the CampKings Crew's first official #GTFO TRIP CLIP campsite story & review.
The CampKings Crew invites you to watch, as we head off on an overnight adventure to Wheeny Creek free camping ground and to check out our camp set up with the CAMPA KIT tarpaulin shelter solution from the Tar-POLE-In Range by CampKits Australia.
This free camping ground located within in the Wollemi National Park, part of the Blue Mountains Ranges in Eastern NSW, is peaceful and ambient. Bustling with the sounds of whistling bellbirds, running water and tall, shady eucalypts it is set beside a quiet gully on Wheeny creek and you can set up your campsite on the grassy terraces by the river. There are three separate areas to choose from - Kingfisher, Boobook or Cheese Tree are the camping areas within Wheeny creek campground.
Wheeny Creek is near enough to Sydney and Newcastle that it makes an idyllic retreat for families and friends, for a daytrip or a weekend getaway, plus, camping here is totally free.
What you should know;
Water is not available at this campground so you'll need to bring your own supply for drinking and cooking

Remember to treat or boil all water taken from creeks in the park

Please take your rubbish with you when you leave

Firewood is not supplied and collecting firewood in the park is not permitted, so it's a good idea to bring your own supply

Check the weather before you set out
We hope that you enjoy the Wheeny Creek TRIP CLIP story & review and would love for you to follow us on twitter and Facebook to take part in our future #GTFO #GetTheFamilyOutdoors CampKings adventures.