Portable Solar Power... What is it?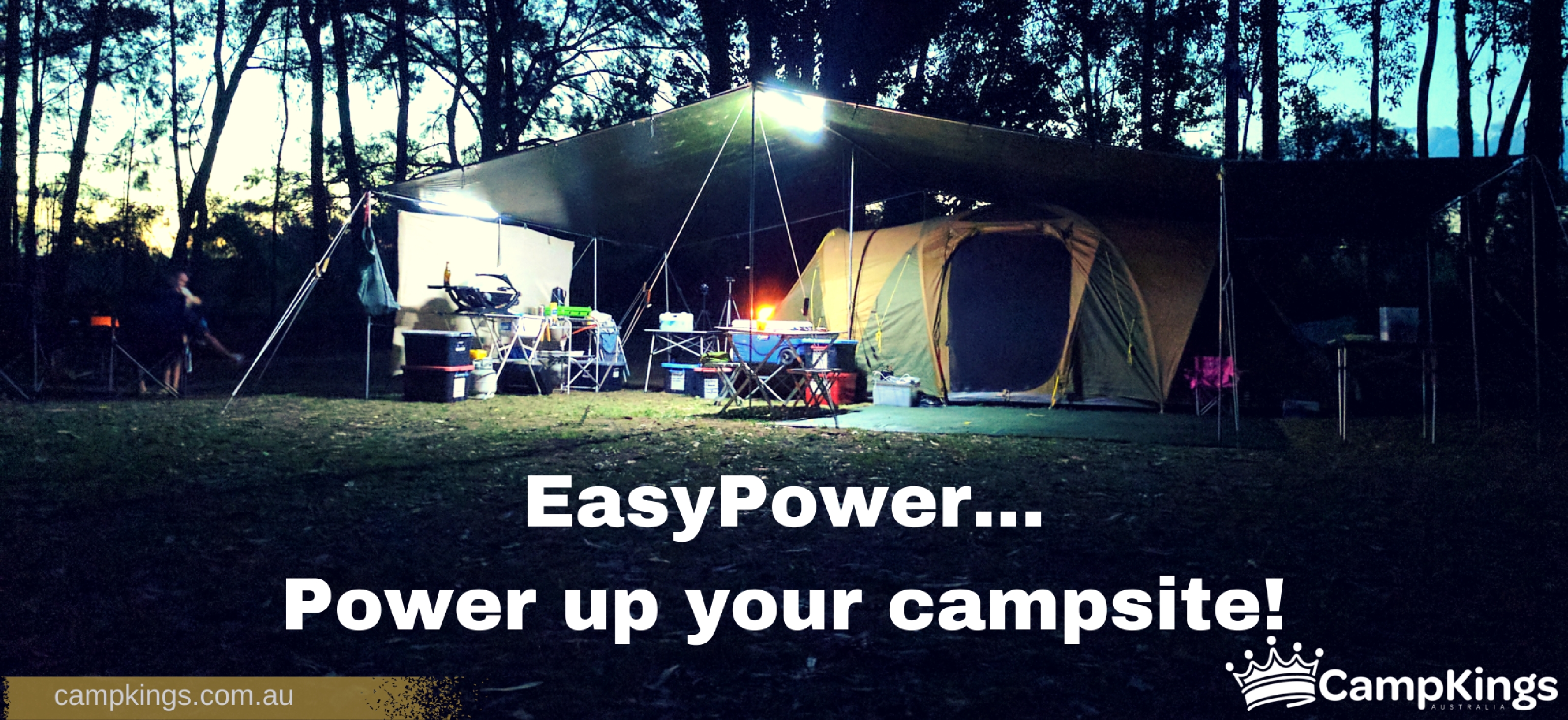 Simply put, portable solar power is a way in which you are able to convert energy from the Sun through solar panels into usable electrical energy and store it in a safe way to power things like lights, fridge | freezers, TV, washing machines, 12V fans, vacuums and air pumps. With the right set-up you can also run CPAP machines and charge up mobile phones, entertainment and music devices, as well as rechargeable tools camera equipment.
There are many varieties of portable solar camping options on the market and while this is a green, efficient and free way to power your equipment when remote camping or on the road, most of these choices are confusing and will prompt questions like –
How does it work?

What do I need to make it work?

What battery do I need?

What solar panels should I get?

How does it connect?
And by far the most important question for you to ask is;
"Will it power and charge the things I want it to?"
Quite frankly, the solar option, though it is confusing, is not a difficult one to understand and even without knowing about Amps, Watts, panels and battery amp hours – you can still have an easy powered camping solution where ever you camp.
The CampKings crew have developed these simple checks to determine what set-up is appropriate for your adventures so that you can enjoy the best that nature has to offer without having to live like the caveman and best of all, it is powered by nature so it is environmentally friendly… Oh – and it is also free!
What do I want to power?
It is important that you have an idea of the things that you want to power and charge before you begin to look at portable power options. Some of the things the CampKings Crew power up on our adventures are;
LED night lights

12V air pump for mattresses and inflatables

Portable DVD player & hair clippers

Boat battery

Mobile phones, re-chargeable torch, cameras and tablets

Laptop computer

55L fridge | freezer

Portable washing machine
How much sunshine will I require?
The simple answer is as much as possible!
Without the Sun your battery storage will not charge, but usually between 5 to 8 hours daily is plenty.
What are the best batteries to use for portable solar storage?
There are 2 main battery solutions that are seen to be the best varieties;
1) AGM deep cycle and
2) Lithium battery hybrids (See more information of Poly Lithium VS AGM Deep Cycle batteries)
How much battery storage will I require?
This depends on what kind of equipment you are planning to run and the length of time you will be "Off Grid".
For example; If you are powering some LED lights, a small (30L) to medium (60L) fridge freezer, and charging electronic devices you should consider a medium solution like the EasyPower S630. This solution contains enough power storage (equivalent to 73Ah) to accommodate these devices and as long as you have sunshine every second day, you'll never be without power!
For a larger fridge freezer and more electrical devices, you might consider a larger solution like the EasyPower S650 (equivalent to 93Ah).
Do I need AC | DC or both?
Again, it will depend on what kind of equipment you are planning to run. Most camping equipment will run DC (LED lights, fans, fridges). A unit with an AC outlet option will allow you to run electrical devices in the same way that you do at home from the wall power outlet. If you are considering this, you should confirm that the unit has a pure sine wave inverter. These units are typically a little more expensive but it means that you will have protection against spikes in the electrical current that can potentially ruin your laptop or electrical devices.
What solar panels should I choose?
This will depend on your battery size and also your portable unit specs (some units can only take a maximum amount of input). With the CampKings EasyPower camping power solution, we have taken care of this for you as our solutions include highly efficient, light-weight folding solar blankets that will deliver more than enough power from the sun to ensure your battery stays charged and you are power ready for your entire camping adventure.
A portable solar power option is a great way to experience more of the great outdoors that Australia has to offer and now your adventure time is limitless as you can power up your campsite and take advantage of the costs savings of a solar powered solution. This includes savings on batteries, ice and being able to set up on cheaper, non powered sites.
See you round the grounds!
The CampKing