Tarp Tips #1
Why Get A Tarp?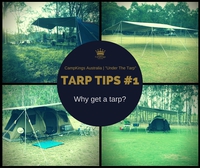 A solid tarpaulin set up is a great way of enhancing your overall camping experience. Tarpaulins will not only protect you from harmful UV, mist & dew and pouring rain, but can also offer protected areas to set up a functional camp kitchen, camp cooking area & storage space for your camping gear.
Tarps allow you to take advantage of being comfortable outdoors in most weather conditions, providing extra space to get out of the tent and lounge about in your favourite camp chair.
A great quality tarpaulin over your site will significantly reduce the heat on your campsite, in your tent or inside your camper trailer & allow you to set-up and pack down more comfortably in the heat and rain, making sure that your tent is packed away dry for your next trip.
Mostly, a great tarp set up completes your campsite, looks fantastic and sets you and your campers up for a great outdoors camping adventure!
If you are looking for the latest innovation in quick and easy, single person tarpaulin camp shelter solutions, you MUST checkout the EasyTarp Range from CampKings Australia.
For more information email us at info@campkings.com.au or SMS 0467 CAM PER