Tarp set-up made easy with the EasyTarp Range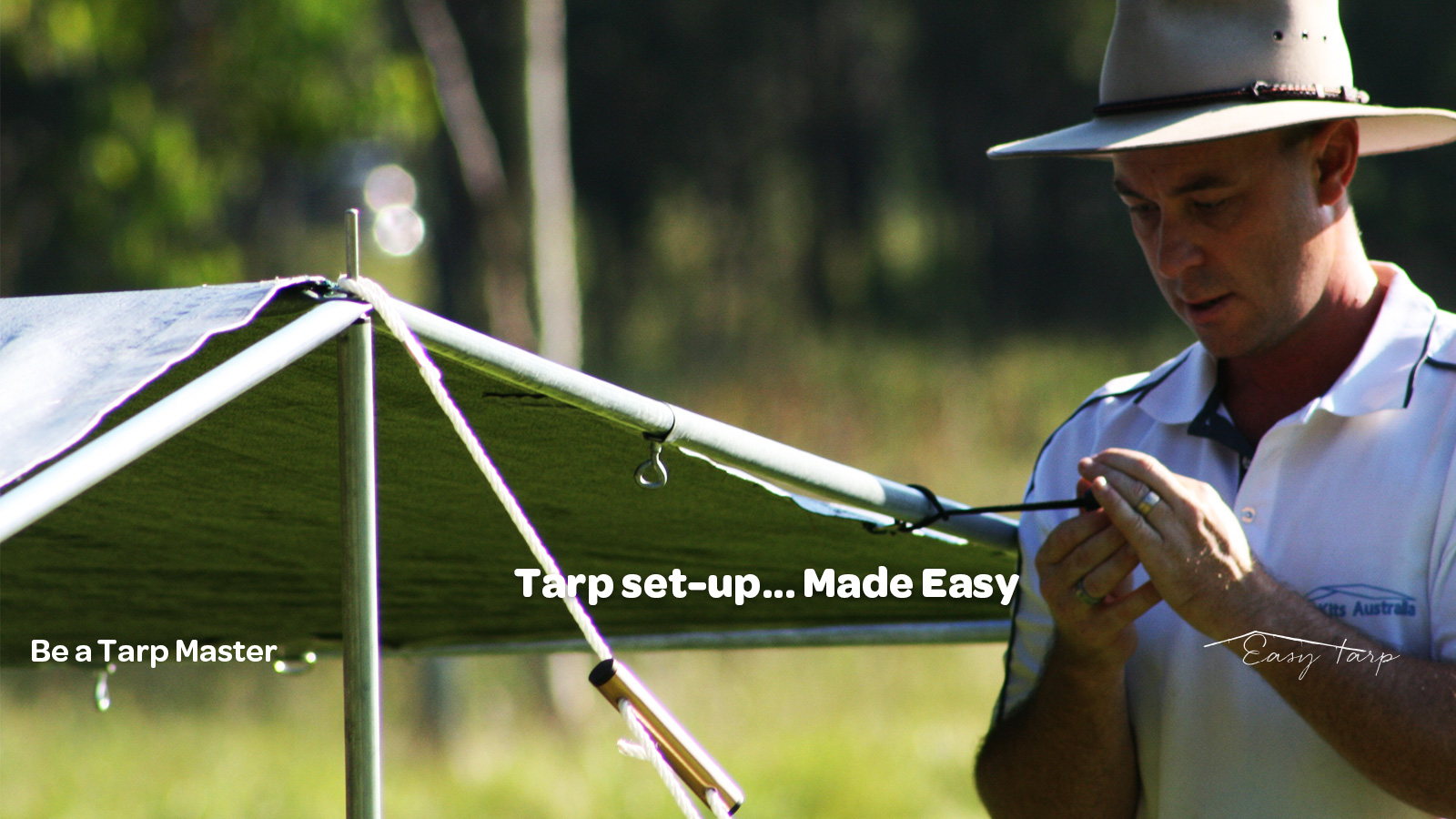 Camping should be about reconnecting with yourself and your family, coming back to the basics of the simple life. You will create memories that last a lifetime although until recently, the tarp set-up memory is one that I would always try to forget...
Recently I have been using an EasyTarp tarpaulin shelter kit set-up on every camping trip, whether it be an overnighter or a month long adventure... But more on that shortly.
Now, I don't know about you but for me I'd had enough of tarp set ups that took hours to put up and always seemed to be in a continual state of collapse whenever it rained or the wind picked up. The unmistakable sound as the poles come loose and hit the ground in the wind and during a down-pour - the ripping sound, followed by the "THUD" as the tarp stretched and gave way from the weight of the pooling water.
All those hours of set-up, the sunburn, the fighting with each other and sometimes even with the other friendly campers who came to lend a you hand, and the near divorces that resulted... Even the sense of triumph as your structure was finally completed... All ruined and gone, waiting for you to repeat the set-up process again and in some cases, completely devastating your adventure filled camping trip.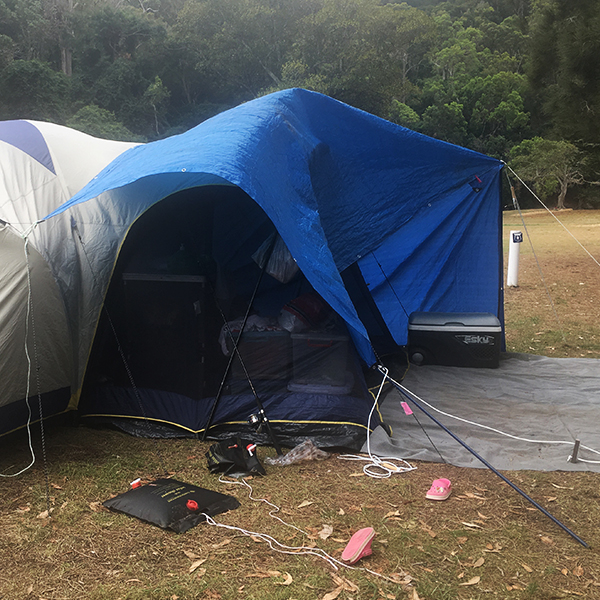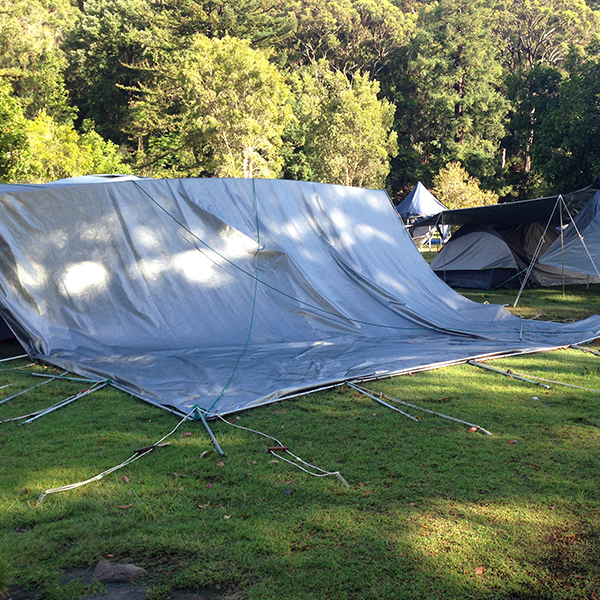 Setting up a gazebo or pop-up shelter was the answer! Actually, it didn't turn out that way at all. Even though it was a little easier to roll out, it still took a good 20 to 30 minutes to put up and secure properly (even with 2 people) and a few days into our Easter camping trip to Soldiers Point in NSW it began to rain heavily.
We had two gazebos placed together, joined with a guttering system and within 10 minutes both gazebos began to pool and bend. Then as the wind picked up and hit the solid walls of the gazebos, they lifted off like some sort of twisted alien craft and rolled away down the campsite.
Thinking about it now, gazebos can be potentially quite dangerous - If we had set up the tent beneath the gazebo, the collapse under the weight of water could have injured someone in the tent and if anyone had been in the way of the spidery-looking wind swept contraption making its way though the campsite, they would have been taken out!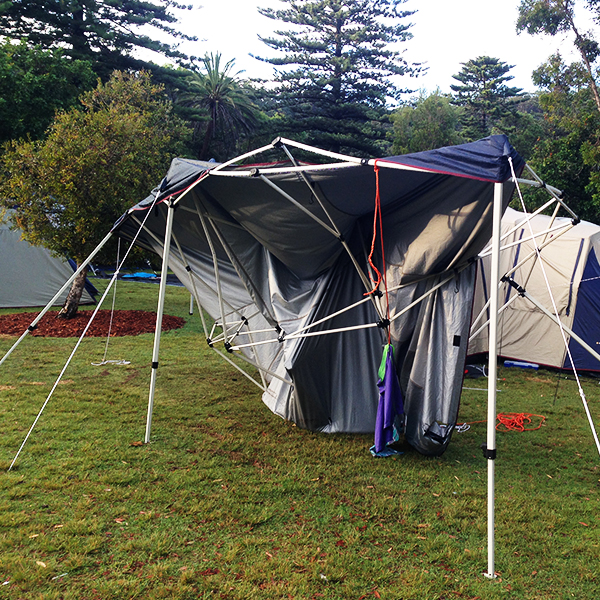 NOPE - Gazebos didn't work for us either so we had to research what options there were for an easy set-up, solid and reliable camping shelter that would pool and collapse or flap around in the wind.
Over the following 16 months, the CampKings trialled, tested, set-up and packed down hundreds of different product components and countless sequences of tarp shelter set-ups and pack-downs in all sorts of variable weather conditions.
The resulting development was the EasyTarp tarpaulin range of camping Tarpaulin Kits. Colour coded, solo person set up tarp camping shelter solutions with instructions that will withstand most adverse weather conditions and are available in an affordable tarp kit. The EasyTarp Range includes everything required for an easy tarp camping shelter set-up and is available in a variety of different sizes to accomodate just about any sized camping adventure.
The CampKings Crew are certain that the addition of an EasyTarp tarpaulin camping shelter kit to your gear will not only remove the stress of an hours long and painful campsite set up, we know that it will protect your gear and your Family from the heat, rain and UV (and maybe even save some friendships and marriages) for years to come.
For an awesome looking and easy tarpaulin camp shelter solution checkout the EasyTarp Range of camping tarp kits only fromCampKings Australia
Get Outdoors More Often and Be A Tarp Master
See you Round the Grounds!