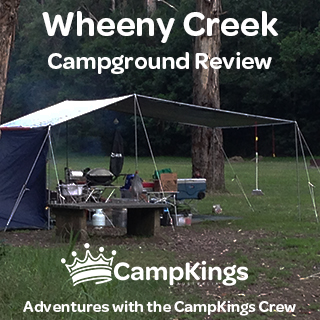 The CampKings Crew headed out to the Northern Blue Mountains on this #GTFO camping adventure to Wheeny Creek free camping ground. This camp site is situated in the Wollemi National Park, a stones throw away from the Lower Hunter regions of New South Wales, in Eastern Australia. With the bellbirds whistling away in the background, you can kick the camp chair back, put your feet up and immerse yourself into the serenity create from the glow of the red hot embers of your campfire.
The #GTFO Experience
The way in is relatively easy going. It is suitable for 2WD vehicles (though in the wet you may struggle on the way out getting up the hills). Be aware that it is also chocked full of bends, twists and turns to keep you on your guard and at certain intervals if you stop and peer over the sharp bends, you will see a mass of car wrecks piled up as a result of some careless and unfortunate accidents.
After a quick set up with the CAMPA KIT EasyTarp attached to the gazebo hub, the CampKings Crew wandered off to explore the creek and the surrounds. When we returned, we set up for a game of twilight Bocce with some of our neighbours. Dinner on this overnight #GTFO was Chilli-Con-Carne in some fire roasted spuds, followed by some fire-side relaxation. In the morning there was an array of Kookaburras and Maggies eagerly sounding the early morning chime in order to wake us up!
The CampKings Crew have rated this site according to the Tent Peg Rating Scale. Check it out before you visit and we'd also love you to check out our EasyTarp camping tarpaulin tarp shelter set-up solutions here:
Be a Tarp Master with EasyTarp easy tarpaulin set ups kits. Tarp Kits... Like You've Never Seen!

HOW DO I GET THERE?
Wheeny Creek free campground is situated in the Wollemi National Park & is about a 90 minute drive from Sydney and 60 minutes from Blacktown. Take the turn off where Kurmond becomes Kurrajong, then follow it all the way to the end. At this point, the road turns to dirt track. BEWARE - The terrain in is best suited to 4WD, though the trek can be made in a 2WD or AWD as long as it has not been raining.
CLICK HERE For Wheeny Creek Google Map

WHAT CAN I SEE & DO THERE?
Bushwalking
Swimming
Star Gazing
Some of the largest and oldest eucalypts that you have ever seen
Plenty of Bellbirds, Possums and Bilbies

WHAT SHOULD I BRING?
You should bring your Tent and Tarp set up (sites are not marked) - If you're keen you can set-up a camper-trailer on the fringes. Also bring fire-wood, drinking water, marshmallows, bocce and cricket set.
WHAT DID WE RATE?
Wheeny Creek is a free camping ground and is mostly nice and flat with plenty of fire pits. There are 3 large grounds to choose from - Kingfisher, Boobook and Cheese Tree.
WHAT WAS NOT SO GREAT?
Be careful negotiating the winding twists and turns down into the ancient valley as there have been many, MANY accidents over the edge.
WHAT YOU SHOULD KNOW
NPWS Rangers conduct regular visits to this camping area

This is a free campground so no bookings or fees are required

Sites are NOT powered

You cannot camp next to vehicle

Road access is by unsealed / dirt road

Parking is available

NOT suitable for camper trailers or caravans

Toilets are available

The road in is unsealed dirt road

There is NO mobile reception AT ALL

Pets are not permitted

Water is not available at this campground

Treat or boil all water taken from creeks in the park

You can swim in the nearby creek

Firewood is not supplied

Collecting firewood in the park is not permitted

The area is prone to flooding so check the weather before you set out

Please take your rubbish with you when you leave
You can Click Here to learn more about our Tent Peg rating scale
Follow the CampKings Crew & and post your adventures on twitter, Facebook, google+ & instagram and we look forward to hearing all about your very own #GTFO adventures and discoveries.
If you are after advice on camping gear and EasyTarp easy tarpaulin set ups, talk to the experts at CampKings Australia.
Be a Tarp Master with a CampKings Australia EasyTarp
Tarp Kits... Like you've never seen!
See you Round the Grounds...
The CampKings Crew